INVESTING IN DISINVESTED COMMUNITIES
IMPACT REPORT 2020
Capital Plus Financial
Capital Plus Financial is a CDFI serving underserved communities in Texas resulting in a positive social and economic impact.
This report has,
Clear impact strategy with industry standards defined.

System, research, and stakeholder data mapped to get a deeper insight.
"Capital Plus Financial, as we see it as a great example of how an organization can use impact management norms in practice."
Key values:
Robust impact management with a baseline stakeholder survey.

By moving to impact evidence early, Capital Plus is a leader in the community development space and minimizes the lost opportunity of a new age of investments.

Cap Plus can assess evidence risk (i.e., the probability of insufficient high-quality impact data) and other impact risks outlined by the Impact Management Project.


Opportunities such as new partnerships and product offerings.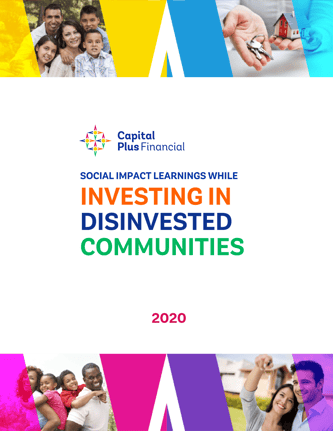 GRAB YOUR COPY FOR FREE
required fields *